Bloody Orkney, Excerpt Five: The Spitfire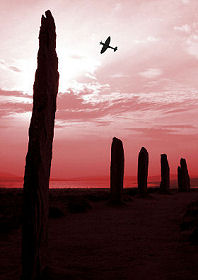 As they walked back towards the car, a familiar noise made Bob stop and turn round.
Military aircraft were so common in Britain's skies that normally he barely noticed them. This was as true over Orkney as anywhere else. But the sound of a Merlin engine still had the power to attract him. As he watched, a lone Spitfire performed a series of tight turns over the loch beyond the Ring of Brodgar. Part of him wanted to be there, in the cockpit of that aircraft. Rather more of him was grateful that his days as a fighter pilot were behind him.
He turned to follow the others, who'd not realised that he'd stopped.